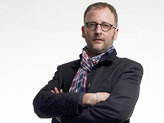 Since 21 years I'm working as a freelance photographer. For documentary and news images I work both in Germany and abroad.
As a photographer I work for daily newspapers, tabloid, news magazines and press photo agencies. In 2002 I joined the photo agency
VISUM
. With the photo agency Getty Images News and Editorial I work regularly as a stringer and contributor.
As a photographer, I covered numerous state visits, protests, parliamentary elections and flood disasters in Germany, Independence in Kosovo, the Arab Spring in Egypt over four years, the earthquake in Kashmir, in Pakistan. I have photographed numerous travels of Pope Benedict
XVI
.
Editorial clients:
Der Spiegel
Stern
Focus
Financial Times Germany
Süddeutsche Zeitung
Frankfurter Allgemeine Zeitung
Werte Deutsche Bank Magazin
WMag
Boston Globe
International Herald Tribune
ADAC
travel magazine
Corporate clients/ NGOs:
KPMG
Allianz
Shell
History Channel
ONE
Deutsches Rotes Kreuz
Unicef
Government
Presse- und Informationsamt der Bundesregierung
Europäische Commision
Corporate clients are agencies such as the Federal Press Office (documentation of performances by the German Chancellor Angela Merkel and German President Joachim Gauck), coverage of the President of the European Commission Jose Manuel Barroso and other Commissioners for the EU; NGOs, such as
UNICEF
, the German Red Cross, One; Allianz,
KPMG
, Company Magazine Deutsche Bank and History Channel.
Download Portfolio
Download Portfolio Cards